Blomberg products have been recognized several times for their technical standards and outstanding design both globally and in the UK
Uk awards
ERT - White goods supplier of the Year 2012
Energy Saving Trust Recommended is a product certification and labelling scheme that promotes the best energy saving products to consumers. Only products that meet the strict energy saving criteria can use the Energy Saving Trust Recommended label - the BEO9414X has achieved this standard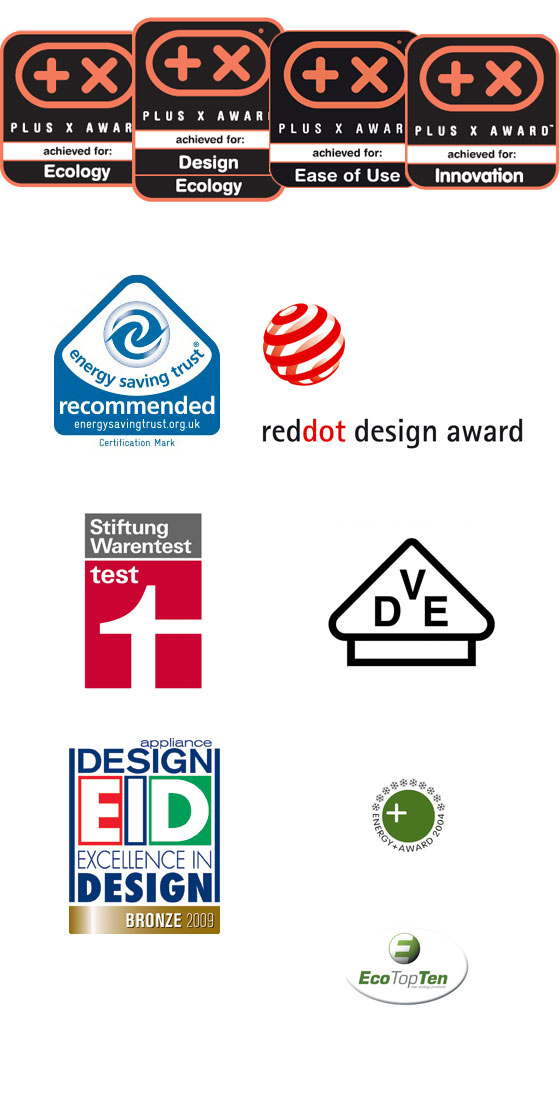 Global Awards
Reddot Design Award
The Reddot Design Award ranks among the world's biggest design competitions, and is recognised internationally as a seal of quality. Blomberg's logitronic dishwasher GSN 1580 XB won the Reddot Design Award, confirming it as an innovative appliance with outstanding design features.
EcoTopTen
EcoTopTen is a major initiative, promoting reduced energy consumption and environmentally friendly product innovation. The research project and the campaign are both supported by the German Federal Ministry for Education and Research, the German Federal Ministry for Consumer Protection, Nutrition and Agriculture, as well as the Foundation Zukunftserbe ("Heritage of Future"). The German Eco-Institute selected Blomberg's heat pump dryer TKF 1350 S as one of only three products nominated in the EcoTopTen ranking. The following refrigerator models were recommended for their energy saving: TSM 1541 A++, KSM 9650 X A++, KSM 9650 A++, DSM 1510 A++, DSM 9630 X A++ and DSM 9630 A++. Also, the following dishwasher models were recommended for their energy saving and environment friendly features: smarTouch, GSN 9585 XB, GSN 9580 XB, GVN 9380 XL, GVN 1380, GIN 9585 XB.
Stiftung Warentest
Stiftung Warentest is the leading consumer safety group in Germany. Blomberg's heat pump dryers TKF 1350 A/S and TKF 7350, washing machines WAF 7340 and WAF 7442 SL, and dishwasher models GIN 1580 XB and GVN 1380 have been recommended by Stiftung Warentest for their outstanding quality.
Plus X Award
The Plus X Award is Germany's biggest competition in the consumer electronics market and was created to offer consumers meaningful and reliable evaluation of goods. In the big white goods category Blomberg received several Plus X Awards: washing machine WAF 1560 S for design, dishwasher GSN 1581 X for design and innovation, tumble dryer TKF 1350 S for innovation, refrigerator KND 1650 X for innovation and ecology, oven BEO 1690 X for design and ease of use, washing machines WAF 7360 AQ and WAF 7462 S for ecology, smarTouch™ dishwasher for design and ease of use, washing machine WNF 8428 A for ease of use and ecology, dishwashers GLN 9220 E and GTN 9220 E for design and ease of use, refrigerator MDND 1880 for design and ecology, and oven BEO 9576 X for design.
Energy+ Award
The European Commission commended Blomberg's refrigerator/freezer CT 1300 A the most energy efficient refrigerator at the Energy+ Competition. With the daily electricity consumption of a 16 W light bulb, this Blomberg refrigerator has lower annual average energy consumption than any comparable appliance. In terms of the EU label classification, it qualifies for an A++ label.
VDE
Blomberg's Q line washing machines and logitronic dishwashers have received the VDE approval for their outstanding performance. VDE, the Association for Electrical, Electronic & Information Technologies, is a Germany-based testing institute, which is one of the largest technical and scientific associations in Europe. Blomberg is the first brand to receive the VDE approval for both washing machines and dishwashers.
Excellence in Design Award
Blomberg mirror refrigerator MDND 1880 received a Bronze award in appliance DESIGN Magazine's 22nd Annual Excellence in Design Awards Competition. The purpose of appliance DESIGN's annual design competition is to honor those designers who have excelled in meeting the modern challenge of harmoniously melding technology and industrial design.