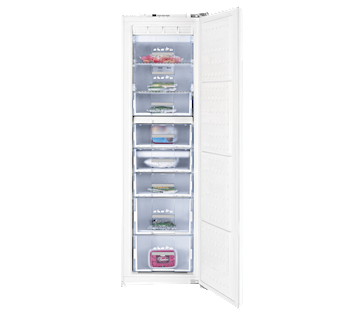 Available In:
Simplifying your life at home, this Frost Free freezer automatically prevents ice build-up to ensure you never need to manually defrost it again. Coming complete with an ice bank tray, you'll be able to make and store ice cubes with ease. A warning light will also alert you when the freezer's temperature starts to rise, helping maintain an optimal freezer environment.
Dimensions
Height: 177cm Width: 54cm Depth: 54.5cm
Customer Rating
FNM1541I reviews Read FNM1541I
Cost To Run
£29.70 Per Year
Cost to run has been calculated using an electricity cost of 10.0 pence/kWh. This figure has been calculated using Which 'Consumer focus' data. The 'medium consumption' is based on what people are paying to the big six providers, on the standard tariff, across the different regions of the country and is then averaged out.